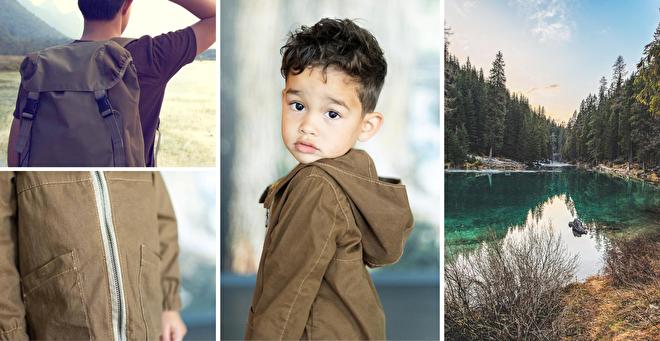 Wat is Oil Skin?
Een stevige geweven katoenen stof met een waslaag.
De waslaag zorgt voor een lichte glans en de stof krijgt een waterafstotend karakter.
Het voelt licht vettig aan.
In eerste instantie werd deze stof met waslaag ontwikkeld voor de visserij.
Hiermee werd de kleding namelijk waterafstotend én ademend.
Tegenwoordig zien we dat deze stof juist door deze eigenschappen uitermate geschikt is voor onder andere jassen, tassen en rugzakken.
Eigenschappen van Oil Skin
Oil skin wordt bij ons altijd op rol geleverd en daarop is de stof egaal van kleur.
Vouwen en kreuken zorgen ervoor dat de was zich verplaatst wat resulteert in lichte lijnen.
Dit is geen defect en eenvoudig op te lossen door de stof te strijken tussen twee vellen bakpapier.
Maar wat u juist zo mooi aan Oil Skin zult vinden is dat deze vouwlijnen de stof rijker en stoerder maken.
De stof gaat leven zoals ook bijvoorbeeld leder dat doet.
Waar moet u op letten?
Door wassen verliest de Oil Skin zijn waslaag evenals bij gebruik van de stoomfunctie op uw strijkijzer.
Wij raden daarom af om deze stof te wassen.
Bij het naaien behandelt u de stof als een stevige stof of jeans.
Gebruik bij meerdere lagen altijd een jeansnaald en zet de snelheid van de naaimachine omlaag om de motor te ontlasten.
De stof glijdt gemakkelijk door de naaimachine. En verder:
Gebruik geen spelden, maar wonderclips om zichtbare gaatjes te voorkomen
De stof wordt lichter na verloop van tijd
De waslaag is weer te herstellen met speciale behandel olie of was
Winkelwagen
Geen artikelen in winkelwagen.