● STRAIGHTGRAIN ●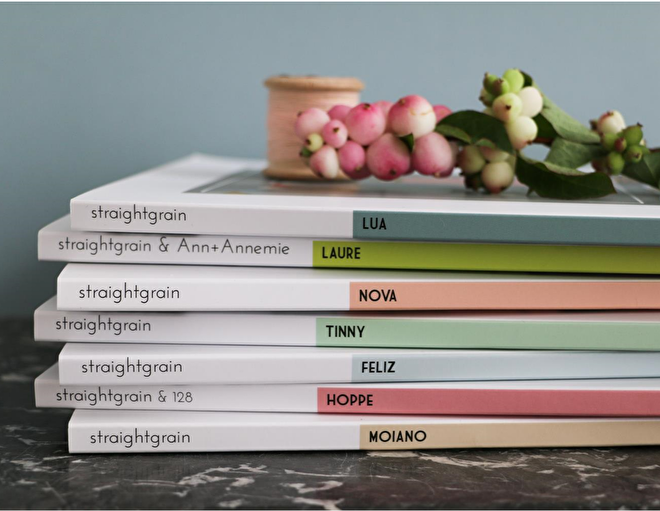 Straightgrain is An, a 37-year-old and pattern designer. I got addicted to sewing many years ago, and have not sought treatment since.
I sew mostly for my 7-year old daughter Norah and for my toddler Ava, who can make any creation look pretty.
"Straight grain" is sewing jargon, and refers to the direction in which you place your patterns on the fabric. I named my blog StraightGrain for two reasons. Firstly, the term "straight" expresses well how I like children's clothing: not complicated and full of campy embellishments, but simple so the fabrics – and the child – get all the attention. Secondly, I really did not have any better ideas.
I would really love to hear from you, via an[@]straight-grain.com (remove the brackets please).
Straight - Grain | Moiano | Papieren patroon - Nederlands

Moiano is een lente/zomerjas met verschillende opties. Maak hem met een kap, of met een platte kraag. Kies voor knopen, of voor een rits. Ga voor de makkelijke paspelzakjes, of voor de opgestikte zakjes.

De jas is volledig…

€ 16,00

Straight - Grain | Ume | papieren patroon - Nederlands

Ume is een naaipatroon waarmee je prachtige hemdjurkjes kan naaien.

De verschillende opties kan je combineren tot tal van verschillende jurken:
– A-lijn jurk of jurk met fronsrok
– puntkraag, ronde kraag, of strikkraag
–…

€ 16,00

Straight - Grain | Nova | papieren patroon - Nederlands

Nova is Portugees voor 'nieuw', en zo de perfecte tongue-in-cheek naam voor een jurk die ik zes jaar geleden als beginnende naaister ontwierp. Veel testversies en toegevoegde opties later is Nova een veelzijdig patroon waarmee…

€ 16,00

Straight Grain | Lua | papieren patroon - Nederlands

Lua is een patroon waarmee je snel en eenvoudig een mooie slaapzak kan maken. Het voorpand is doorgesneden, waardoor je een fijn paspeldetail kan toevoegen, of kan colorblocken. De rits zit aan de zijkant, zodat de voorkant niet…

€ 13,00
Winkelwagen
Geen artikelen in winkelwagen.