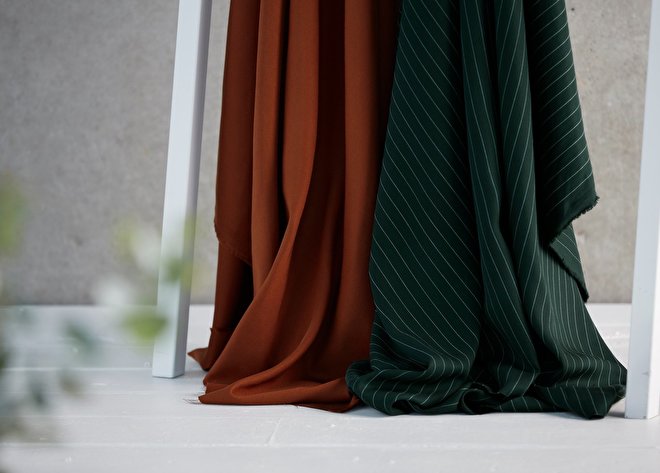 meetMILK
Founded on a base of exclusive and sustainably sourced fabric.
Defined in the unity of beautiful colors and vibrant textures.
Brought to you for the purpose of making wearable and loveable clothing.
meetMILK is a brand of sustainable fabrics determined to offer an alternative choice of materials for home sewers and makers who cherish high quality and eco-friendlyness when choosing fabric for a handmade wardrobe.
The fibres and materials, as well as the production environments for the fabrics that we choose for the collections are all certied sustainable and/or eco-friendly with very low ecological impact.
--------------
TENCEL
meetMILK fabrics containing TENCEL™ Lyocell fibres are a perfect choice of fabric for making clothes to love forever and to wear again and again. Clothes that are not only right for you, but also right for the environment.
TENCEL™ Lyocell fibers are derived from sustainable wood sources that are harvested from certified and controlled sources in natural forests and sustainably managed plantations.
TENCEL™ Lyocell fibres have gained a commendable reputation for their award winning and environmentally responsible closed loop production process, which transforms wood pulp into cellulosic fibers with high resource efficiency and low ecological impact.
TENCEL™ branded Lyocell fibers are known for their natural comfort and luxurios soft touch. They deliver quality, performance and versatility with unique physical properties that lead to their great strength, efficient moisture absorption, enhanced breathability and gentleness to skin.
TENCEL™ fibers are manufacured by Austria based Lenzing Group who has many years of dedicated ability, ambition and passion to develop eco/sustainable fibers from natural wood sources.
uitverkocht

uitverkocht

uitverkocht

Mind the Maker | Blaze Corozo Button - 20 mm - Rose

Corozo is a 100% natural product which is similar in consistency to a hard resin. Also known as tagua, it is often referred to as "vegetable ivory." At a microscopic level, corozo is made up of very tightly wound organic fibers…

€ 1,30

uitverkocht

uitverkocht

-10%
Winkelwagen
Geen artikelen in winkelwagen.